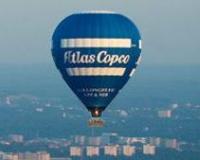 Drawing from its large experience serving the Liquefied Natural Gas (LNG) market turbomachinery manufacturer Atlas Copco Gas and Process Division has secured a breakthrough compressor order for the Carrier LNG market in Asia. The order – placed by Samsung Heavy Industries in Korea – is for a total of four centrifugal gas compressors, four gas screws compressors along with the necessary heaters and vaporisers, to be used on two Korean vessels.
Featuring a compact design specifically tailored for the needs of the smaller vessels, the compressors will be deployed aboard two small scale Liquefied Natural Gas Carrier (LNGC) vessels, for the ships' cargo handling system. Specifically, the vapor return compressors will provide tank pressure control during loading and the fuel-gas compressors will feed excess boil-off gas to the gas engine during operation. With a capacity of 173,000 – 263,000 m3, the vessels will join the fleet of Kogas, Korea's public natural gas company. In securing the order, Atlas Copco Gas and Process displayed its strong capability for supplying complete cargo system solutions, including the high-duty turbocompressors, the low-duty gas screw compressors and heat exchangers necessary for the system.
"This order is a very important step for Atlas Copco in the Asian LNG market. We were pleased to leverage Atlas Copco's proven experience in supplying full cargo handling systems on large LNGC vessels," says Robert Radimeczky, President of the Gas and Process Division. He adds that his company's experience in securing naval approvals for turbocompressors was another key factor.