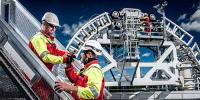 Atlas Professionals B.V. has signed the final agreement with Programmed Maintenance Services Limited for the acquisition of the international activities of Programmed Marine and the formation of a 50/50 joint venture for offshore and marine manning services in Australia and New Zealand (ANZ).
The addition of the four Programmed International Marine offices in Houston, Aberdeen, Dubai and Singapore enables Atlas to expand its global footprint and use local expertise to support more clients and professionals worldwide.
Programmed Marine supports vessel and marine activities, drilling / rig operations, offshore construction projects and on-going maintenance and other auxiliary functions, onshore and offshore. This has led to Programmed Marine's impressive track record in the offshore and staffing industry, providing an ideal fit with the business activities of Atlas Professionals.
"We are very enthusiastic about the transaction. It perfectly fits our strategy. With increased local knowledge and expertise in Australia, New Zealand, Houston, Aberdeen, Dubai and Singapore by combining the best attributes of both companies we will be in an even better position to provide our clients our value added services," says Marcel Burghouwt, CEO, Atlas Professionals.
The offshore oil and gas industries in ANZ are part of a global industry, with local content and with clients increasingly seeking international marine HR and support services. As a result, Atlas Professionals and Programmed Marine have decided to form a 50/50 joint venture for the Australian and New Zealand marine manning services markets. The combined Atlas Programmed Marine joint venture will benefit from the opportunities that Atlas Professionals, with 20 offices in 16 countries, will bring to ANZ.
Business will operate as usual for the Programmed Marine teams in Houston, Aberdeen, Singapore and Dubai, as well as the joint venture for the Australian and New Zealand marine manning services. Atlas will draw on the local knowledge and expertise to increase the capabilities of our services. All recent points of contact in these offices will remain the same.