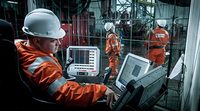 Atlas Professionals has developed a drilling assessment which will support employers looking to further build skilled and competent teams, and ensure a sustainable and safe environment offshore.
Third party competence has long been a question within the drilling industry. This unique assessment tool is the first step towards providing clients further assurance of the capabilities of third party contractors. This will form part of the Atlas Competence Programme (ACP) within the drilling industry which is currently under development.
The international specialist recruitment and HR services company has created the robust testing procedure in collaboration with OPITO, the global, not-for-profit, skills organisation for the energy industry.
The Atlas Drilling Assessment sits within the OPITO Skills Screening tool which is an online user-friendly platform adopted by oil and gas employers around the world looking to measure the knowledge of their workforce and also identify any skill set gaps.
The addition of the drilling assessment will allow Atlas' clients to access a bespoke area which looks at a variety of drilling specific functions, comprising questions around the core and technical skills required for numerous safety-critical drilling tasks.
The Atlas Drilling Assessment section of the OPITO Skills Screening tool was created to provide a better insight into the knowledge and experience of professionals going offshore. This tool will further substantiate the company's recruitment and selection process and shows its determination to provide a unique and comprehensive solution for clients.
Matt Riding, General Manager International at Atlas Professionals says, "Creating the Atlas Drilling Assessment as part of the OPITO Skills Screening tool has been a combined effort of many stakeholders. The cooperation between all parties further proves the drive to improve industry standards. After completing a successful trial, Atlas is proud to announce that the assessment will be introduced to our clients in the near future, delivering added value to their recruitment selection strategy."
OPITO Chief Executive, John McDonald, says, "There are always significant challenges in recruiting personnel suited to the skills required to help companies further develop their businesses. The Atlas Drilling Assessment section of the OPITO Skills Screening tool will support their drilling clients' human resources, recruitment and training functions, to measure the skills of individuals both already in their organisations and potential new recruits, giving a guarantee of knowledge in specific disciplines."