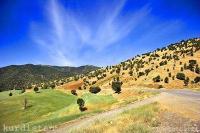 ShaMaran Petroleum Corp. is pleased to report that the Atrush partners have received approval from the Kurdistan Regional Government (KRG) for the first phase in the development of the Atrush Block in the Kurdistan Region of Iraq.
The TAQA-operated Atrush Block, located 85 km northwest of Erbil, is expected to initially produce approximately 30,000 barrels of gross oil per day (bpd) with first oil expected by early 2015.
The group plans to invest more than $300 million in Phase I in drilling three production wells and the construction of a central processing facility. Operator TAQA and its partners have an active drilling program on the Atrush Block and are continuing to appraise the area for further development. Subject to the outcome of this appraisal and KRG approval, the Phase 2 development is expected to include another 30,000 bpd production facility. TAQA and its partners will also evaluate the feasibility of producing associated natural gas for delivery to the domestic market.