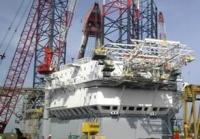 Tap Oil Limited provides the following update on the Manora Oil Development in the Northern Gulf of Thailand (TAP 30% interest).
Mubadala Petroleum, Operator of the Manora Oil Development joint venture, has advised that the Atwood Orca jackup drilling unit has spudded the fourth and fifth of 15 planned development wells, MNA-04 and MNA-05. They have also advised that MNA-03 has been drilled to the final target depth.
The MNA-04 and MNA-05 wells will be drilled to final target depths of 3,430m and 1,934m measured depth respectively and MNA-05 will be completed with electric submersible pumps (ESPs) ahead of handover to Production. MNA-04 is the first of the five planned water injector wells.