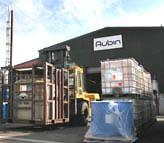 Offshore chemical engineering specialist Aubin has grown its presence in the Middle East, projecting nearly £3million worth of sales in the region this year as well as the introduction of local manufacturing.
The Aberdeenshire-based company specialises in chemical solutions for the oil and gas industry, including cement and stimulation additives. With the majority of its global sales going to the Middle East, Aubin recently formed a partnership with an Abu Dhabi-based company to facilitate regional manufacturing.
Aubin has recently completed a contract worth more than £400,000 for the provision of cement additives to a global operator in Iraq, and the successful conclusion has secured an additional contract to supply £1.25 million by the end of the year.
Ray Stirton, business development director, said: "The Middle East is a core market for us, and we are thrilled to see our contracts there continue to grow. We have a rich history of work in the region and are delighted to be expanding our strong customer relationships into new areas.
"Establishing our Abu Dhabi office and regional product manufacturing is driven by our strategy to improve availability of our products and services throughout the Gulf. Having an on-the-ground presence in the Middle East allows us to deliver quick and efficient services to our local customers and offer more immediate support for their queries.
"We have already seen our profile increase with a sizable contract in Iraq, which has the potential to grow exponentially and bring our overall yearly sales above £3million. We look forward to forging further relationships with regional customers as we grow."