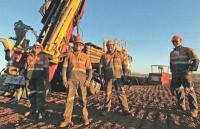 Ausdrill Limited advises that Mr José Martins, Chief Financial Officer, has resigned from the Company.
Ausdrill Chairman, Mr Terry O'Connor acknowledged Mr Martins' dedication and commitment to the Company during the past five years.
'On behalf of the Board of Directors and the Company, I sincerely thank José for his efforts, and wish him every success for the future.'
Ausdrill is very pleased to announce the appointment of Ms Theresa Mlikota to the role of Chief Financial Officer. Ms Mlikota brings a wealth of experience, primarily in the resources and contracting services sector, having previously held senior leadership roles with Woodside, Zinifex and Alinta, and more recently as CFO of Fulton Hogan, Thiess, Macmahon and Barminco.