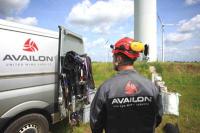 Availon, the independent wind turbine O&M service provider, has recently added over 100 MW of Vestas® turbine generators to its O&M service portfolio. These strong results underpin the success of Availon's technology diversification strategy, which has been deployed internationally over the last few years.
Although the company is often regarded mainly as the independent expert of GE® wind turbines, those machines are not the only technology that Availon specialises in. Turbines by manufacturers Vestas® and Gamesa® feature at the top of Availon's service portfolio. These technologies have effectively become key drivers of growth for Availon. The company had already reached the 1,000 MW milestone for Vestas® turbines under its care in the third quarter of 2014.
Availon has not only greatly expanded the quota of Vestas® generators under its care in Germany, but has also managed to extend its Italian portfolio to include the 2MW class Vestas® V90 wind turbines.