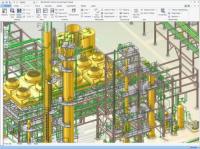 AVEVA announced that Promer Consultancy and Engineering Company has selected its Integrated Engineering & Design solutions for major engineering projects, with customers including Turkey's largest oil & gas Owner Operator.
In order to meet the requirements for increased project efficiency and higher quality deliverables, Promer will deploy the AVEVA solutions on greenfield energy and mining projects. It will also utilise the out-of-the-box capabilities of AVEVA Everything3D to read LFM Software Limited's laser scan datasets to reduce rework on brownfield oil & gas revamp projects.
AVEVA provides powerful and efficient software that is tried and tested by many big names in our industry,' said Altug Bayram, Promer. 'We will achieve greater efficiency and save considerable man-hours using fully integrated engineering and design products. We spend less time on project revisions during and after the design stage, saving considerable man-hours across projects and improving the accuracy of our deliverables. AVEVA's technology is easy to use and they provide excellent technical support'.