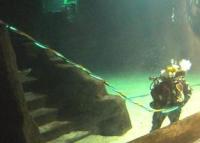 New technology which aims to enhance safety for deep sea divers in the oil and gas industry has been produced by a Scottish research and development company.
PSL, a spin out company of the University of St Andrews, has further developed its award-winning unique fibre lighting system LIGHTPATH, which offers an innovative technical solution to many sectors where safety of life is paramount.
Its new SLS2000 is a small, compact unit at just 30mm in diameter and 70mm long, which has been designed to provide a light source to saturation divers using an LED attached to the umbilical at the divers' end.