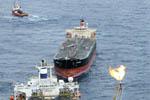 AWE Limited has been awarded a new exploration permit offshore Western Australia, WA-497-P (formerly release area W13-18), as part of the Australia 2013 Offshore Petroleum Exploration Acreage Release.
The permit covers an area of 560km2 in water depths ranging from 150m to 500m and is located in the Exmouth Sub-basin of the North Carnarvon Basin, immediately adjacent to the producing Pyrenees, Vincent and Coniston oil fields and north of the Macedon Gas Field.
AWE holds 100% equity in WA-497-P, a six year exploration permit, and will be the Operator.