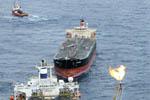 AWE Limited, as Operator of PMP 38158, advises that the subsea tie-back and installation project to connect the Pateke-4H development well to the Tui area oil fields gathering system has been successfully completed and that oil production has commenced.
The Pateke-4H well has been brought onto production and flow testing is under way to determine the optimal well settings. The well recorded an initial unstabilised flow rate of 34,000 bopd at 67 per cent choke with a 48 per cent water cut, which is in line with field modelling.
Looking ahead, it is planned to test various facility parameters, including choke settings, before establishing a much lower stabilised flow rate for long-term production. It is forecast that oil production from the well will then decline relative to the increasing water cut in the well.