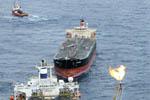 AWE Limited advises that at 10:15 hours (10.15am) AWST yesterday the Irwin-1 exploration well, located in the onshore Perth Basin, Western Australia, had reached a total depth of 4,049m and preparations are now under way to commence a wireline logging program.
The Irwin prospect straddles the EP320 (AWE 33%) and L1 (AWE 50%, Operator) boundary and the Irwin-1 drilling program is being operated by AWE under an agency agreement with joint venture partner, Origin Energy Limited.
Irwin-1 encountered elevated gas shows in the Dongara/Wagina sandstones primary target. Gas shows were also observed in the secondary objectives - the Carynginia Shale, the Irwin River Coal Measures, and the deeper Kingia and High Cliff Sandstones - but their significance is yet to be determined. These intervals will be further evaluated with a wireline logging program.
AWE may undertake a flow test of the Irwin-1 well to better establish the commercial potential of the reservoir(s). The approved work program for the Irwin-1 exploration well does not include hydraulic fracture stimulation.