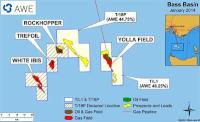 AWE Limited has commenced drilling the Drover-1 exploration well at 21:30 (AWST) on Sunday 29 June 2014.
As at 06:00 hours (6.00am) AWST today, the well was at a measured depth of 141 metres and was drilling in a 12 ¼ inch hole to a planned depth of 900 meters in preparation for the installation of the 9 5/8 inch surface casing.
The Drover-1 exploration well is located on pastoral land in the Shire of Coorow, approximately 18km southeast of Green Head and 220km north of Perth.