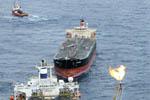 AWE Limited, a 35% joint venture partner in the BassGas project, advises that the Yolla-6 development well has been successfully tied-in to export facilities on the Yolla platform and production from that well has commenced.
The Operator is monitoring well performance to achieve optimal co-mingling with production from the existing Yolla-4 well. The early unstablised production rate from the BassGas facilities has now increased to approximately 57 TJ/day following the addition of the Yolla-6 well.
AWE Managing Director, Bruce Clement, said that the development drilling phase of the BassGas Mid Life Enhancement project was nearing completion.
'With Yolla-6 now on production, and well performance in-line with data acquired while drilling the well, we are looking forward to additional production from the Yolla-5 well, due to come online in early August,' he said.