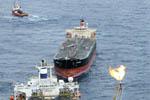 AWE Limited, the Operator of Permits L1/L2 in the Perth Basin, Western Australia, announced Friday that as at 06:00 hours (6.00am) AWST today the Waitsia-1 appraisal well was at a Measured Depth below Rotary Table (MDRT) of 7,667 feet (2,337 meters) and drilling ahead in a 12.25 inch hole to the next planned section depth of 8,136 feet ((2,480 meters), following the successful installation of 13.375 inch surface casing at 2,792 feet (851 meters).
The Waitsia-1 well was spud May 14 and is forecast to take approximately six weeks in total to complete. The well will be drilled vertically to a planned total depth of 13,287 feet (4,050 meters) MDRT and is designed to further test the gas potential of the Waitsia Field, comprising primary targets in the deep conventional formations in the Kingia and High Cliff Sandstones.
The well will be logged and core samples will be collected and sent for analysis. Secondary targets in the shallower Dongara and Wagina tight sandstone formations, the Carynginia Shale and Irwin River Coal Measures will be intersected prior to reaching the primary targets. If the results are positive, AWE may undertake a flow test of the Waitsia-1 well and the well may be completed as a production well for a potential future field development. The approved work program for the Waitsia-1 appraisal well does not include hydraulic fracture stimulation.