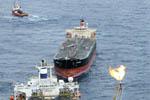 AWE Limited advises that as at 06:00 hours AWST today the Irwin-1 exploration well, located in the onshore Perth Basin, Western Australia, was at a measured depth of 2,996m and drilling ahead in 8 1/2 inch hole to the planned total depth of 4,064m, following the successful installation of 9 5/8 inch intermediate casing at 2,768m.
The Irwin prospect straddles the EP320 (AWE 33%) and L1 (AWE 50%, Operator) boundary and the Irwin-1 drilling program is being operated by AWE under an agency agreement with joint venture partner, Origin Energy Limited.
The Irwin-1 exploration well was spudded on 25 March 2015. The well is being drilled vertically to a planned total depth of 4,064m and is forecast to take a total of approximately seven weeks to complete.