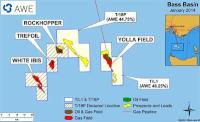 AWE Limited has agreed to sell an 11.25% interest in T/L1 (BassGas infrastructure & Yolla field) and a 9.75% interest in T/18P (Trefoil field) to Prize Petroleum Company Limited, a wholly owned subsidiary of Hindustan Petroleum Corporation Limited, for a total cash consideration of AUD85 million.
AWE will receive AUD80 million upon completion of the sale with a further AUD5 million deferred payment payable upon meeting the following conditions:
◾ AUD2.5 million on completion of the BassGas Mid Life Enhancement (MLE) project (drilling of two development wells and installation of gas compression); ◾ AUD2.5 million if the MLE project costs do not exceed an agreed threshold.
The sale is subject to standard joint venture and government approvals for a transaction of this nature including the Australian Foreign Investment Review Board and the Reserve Bank of India. The effective date for the sale is 1 July 2013 and is subject to completion adjustments. At completion, AWE will hold 35% in T/L1 (BassGas/Yolla) and 35% in T/18P (Trefoil).