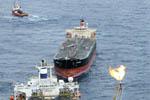 AWE Limited as the Operator of the L1/L2 joint venture, has commenced the flow testing program for the Senecio-3 well to further appraise the Waitsia gas discovery in the onshore Perth Basin, Western Australia.
Following completion of drilling operations at Senecio-3 in September 2014, AWE estimated that the Kingia and High Cliff Sandstone intervals in the Waitsia gas field have gross Contingent Resources in the range from 65 billion cubic feet (Bcf) to 1,170 Bcf, with a best estimate (2C) of 290 Bcf.
The testing program is designed to determine well deliverability from two conventional reservoir zones and to collect gas samples for compositional analysis.
The first zone being flow tested is the secondary target in the deeper High Cliff Sandstone, where a 5 metre interval (3,254m-3,259m) has been perforated and well clean-up operations are in progress.