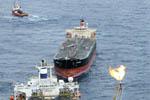 AWE Limited, as Operator of Petroleum Mining Permit 38158 offshore Taranaki, New Zealand, advises that the semi-submersible drilling rig 'Kan Tan IV' commenced drilling the Oi-2 exploration well at 05:30 hours (5.30am) NZDT on Friday, 13 June 2014.
As at 06:00 hours (6.00am) NZDT today, operations were drilling a 36 inch hole to a planned depth of 230 meters in preparation for the installation of a 30 inch surface conductor.
The Oi-2 exploration well is located approximately 12 kilometres northeast of the Tui Area Oil Fields in water depth of approximately 120 metres. The well objective is to evaluate the hydrocarbon potential of a 4-way dip closed structure similar to the producing Tui, Amokura and Pateke fields and is targeting the same F10 reservoir sandstones.