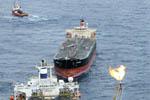 AWE Limited, as the Operator of the L1/L2 joint venture, provides the following update on the flow testing program at the Senecio-3 well, in the onshore Perth Basin, Western Australia.
The testing program is designed to determine well deliverability from two reservoir zones in the Waitsia gas discovery and to collect gas samples for compositional analysis.
The first stage of the testing program commenced on 18 February and focused on the lesser quality, deeper secondary target, the High Cliff Sandstone. A 5 metre interval (3,254m – 3,259m) was perforated without stimulation and the well was flowed twice over a 77 hour period.
Following clean-up of the well, a stabilised gas flow rate of 0.3 million standard cubic feet per day (mmscf/d) was measured during the flow test period. The gas composition was predominantly methane with only minor levels of carbon dioxide present (CO2 circa 2%, which is within gas pipeline specification). The result is consistent with pre-test expectations for the High Cliff Sandstone and confirms its potential as a significant gas resource.