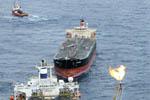 AWE Limited advises that after consultation with Joint Venture partner, Titan Energy Limited, it will not proceed with Phase 2 of the Drover-1 exploration program and will not hydraulically fracture stimulate the well.
Results from the Diagnostic Fracture Injection Test (DFIT), completed in April 2015, and analysis of the core samples and wireline data taken in 2014 have provided sufficient information for AWE's assessment of the shale gas potential in the southern extent of its Perth Basin acreage and no further work is required at this location.
The Drover-1 exploration well will now be decommissioned and rehabilitated back to its pre-existing state.