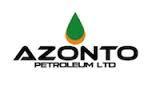 Azonto Petroleum Limited announces an update on its Joint Venture on the Accra Block (the "Block") in offshore Ghana.
On 26 March, 2014, Azonto announced that its subsidiary, Azonto Petroleum (Ghana) Limited (57% Azonto Petroleum Ltd / 43% Vitol E&P) (Azonto Ghana) had been granted a six month extension (the "Extension Period") to the initial exploration period extending it to 23 September, 2014.
Whilst all of the commitments for the extended exploration period had already been satisfied, the extension enabled Azonto Ghana and its Joint Venture partner Afex Oil (Ghana) Limited (Afex Ghana) to work closely alongside GNPC (which holds a 10% carried interest in the Block) to carry out further geophysical studies in order to fully incorporate the results from the Starfish-1 well, and further enhance the definition of the additional identified prospectivity on the 2,000 km2 Block.