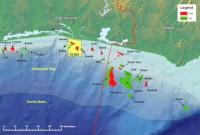 Azonto says that, as a result of a continued strategic review of its operations and prolonged discussions with the government of Ghana and potential partners with regard to ongoing participation in the offshore Accra Block, the Company has decided not to continue with its deepwater exploration acreage in the Offshore Accra Block, Ghana.
Following the exit from the Block of other partners in March 2014 Azonto's subsidiary Azonto Petroleum (Ghana) Limited, in which Vitol E&P Limited has a 43% interest, and the other remaining partner Afex Oil (Ghana) Limited (together the JV Partners), secured a 6-month extension of the Licence to 23 September 2014 for the purpose of determining whether suitable operating partners could be found to proceed with into the next phase of Exploration under the Petroleum Agreement.
During the extension period the Company undertook extensive technical work, including further detailed evaluation of the seismic data and remapping, and set up a detailed Data Room which was visited by over ten companies.