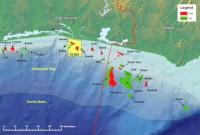 Azonto provides an update on its operations in Cote d'Ivoire where the Company is a 35% shareholder in Vioco Petroleum Limited which holds an 87% working interest (100% paying interest) in, and is operator of, the CI-202 Block, Cote d'Ivoire. Vitol E&P Limited holds the remaining 65% interest in Vioco.
CI-Energies, the Ivorian state owned utility, recently signed a non-binding MOU with a reputable international company which may finance, develop and operate the independent power project at Grand Bassam and upgrade the power line infrastructure for the proposed Vioco integrated gas to power project. The intention is for the scope and schedule for the IPP to be agreed by the end of May 2015.
The ESIA environmental impact assessment report into the Grand Bassam project site has been completed and, following a period of public consultation, was submitted to the Cote d'Ivoire Environmental Agency (ANDE) on 20 March 2015 with a view to obtaining formal approval by the Ministry of Environment and Sustainable Energy by mid-May 2015.