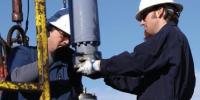 Baker Hughes Incorporated announced that two subsea electrical submersible pumping (ESP) systems have been brought on line at the Cascade field, operated by Petrobras America Inc. in the Lower Tertiary trend of the Gulf of Mexico.
The subsea boosting system is in 8,200 feet of water—the deepest application of this production technology in the Gulf of Mexico. The system employs two ESP systems—operating hydraulically in series, but electrically in parallel—housed in a replaceable cartridge placed on the seafloor.
This design does not require a rig for intervention, making any maintenance or change-out requirements over the life of the field more economic.