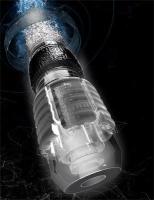 Baker Hughes announced the commercial release of its SPECTRE™ frac plug, the first in the industry to completely disintegrate downhole after fracturing. The plug eliminates coiled tubing (CT) interventions, accelerates completion times and leaves behind an unobstructed production inside diameter (ID) for maximum flow area and easy future access.
"The SPECTRE plug was made possible only through the application of nanotechnology and the marriage of seemingly incompatible properties—high strength and rapid degradability," said Jim Sessions, Vice President of Technology, Completions and Wellbore Intervention at Baker Hughes. "This distinctive combination delivers plug-and-perf efficiency and flexibility that no other plug currently provides."
As with a traditional frac plug, the SPECTRE plug enables flexible stage placement. But unlike traditional plugs and even other disappearing downhole plugs, however, the entire SPECTRE plug—including the plug body, anchoring grip and packing element—disintegrates fully at predictable rates when exposed to wellbore fluids. Complete disintegration ensures that no plug debris are left downhole, thereby protecting the well infrastructure from undissolved components, which can compromise wellbore integrity, restrict access and complicate operations such as future well rejuvenations.