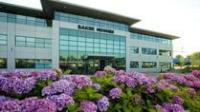 Baker Hughes has released its TORRENT™ frac-pack solution, which helps operators improve ultimate recovery by creating and maintaining large, high-conductivity fractures to maximize reservoir contact and increase drainage.
Each TORRENT solution is designed with the customer and executed according to the potential of the respective reservoir, and takes advantage of Baker Hughes' expertise and technology portfolio in sand control and pressure pumping.
The result is more reliable and effective delivery of an optimal treatment program for the reservoir—regardless of required proppant volumes or pump rates.
Modeling the ideal stimulation program and engineering the fluid design to match reservoir characteristics is the initial part of the process.
The stimulation program is then executed using the versatile SC-XP™ frac- pack platform and an advanced stimulation vessel. SpectraStar™ fracturing fluid, which features proprietary organoborate crosslinker and breaker technology, offers superior shear recovery at extreme pump rates, and is used for effective proppant transport, breaking cleanly and completely for maximum regain conductivity.