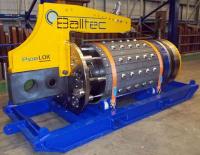 Balltec Ltd, the pipeline solutions specialist, has been contracted by Allseas to supply a 44" PipeLOK™ pipeline recovery tool to the Shell Wheatstone Project based 200km offshore Onslow, Western Australia. Wheatstone is the offshore central processing platform enabling a combined production capability of approximately 8.9 million tonnes of LGN and domestic gas per annum.
The 44" PipeLOK tool is the world's largest ball and taper based dewatering pipeline recovery tool in service. The PipeLOK™ tool itself has been specifically designed for the Wheatstone project and includes some advanced features that have not previously featured in the Balltec stock.
The tool combines the PipeLOK™ dewatering system with an air let-outlet system and a hot stab interface. The tool is on hire for the pipe laying phase of the Wheatstone project due to commence later in 2014.