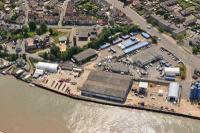 Barclays has supported CLS Offshore Limited with a £2m loan through the Funding for Lending Scheme to purchase their unique quayside fabrication facilities and business premises at Gorleston, Great Yarmouth. In addition to the aforementioned loan, Barclays has also provided various trade finance facilities to support the longer term growth strategies and plans of CLS.
CLS Offshore is an awarding winning total solution provider to the oil, gas, marine and renewable industries. The complete onshore and offshore services include, but are not limited to, Surveys, Design, Fabrication, Testing, Installation, Commissioning, Maintenance, Repair, Asset Integrity, Modification, Decommissioning, Recruitment Services and complete Project Management.
Over the past eighteen months, to support long term strategies, CLS Offshore has gone through a period of transition which has included changes at board level, simplifying processes and introducing new divisions such as a Recruitment Service and a dedicated Electrical and Instrumentation team.