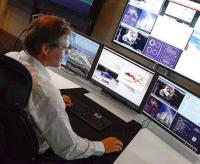 Barco, a global provider of visualisation solutions, and China Electronic Corporation (CEC) Panda, a Chinese provider of technology products and IT solutions, have announced the establishment of a joint venture to better address the Chinese control rooms market. This agreement will prove beneficial for both parties: it will give CEC-Panda the opportunity to benefit from Barco's established and front-running product portfolio and its brand name; for Barco, the joint venture − Barco China Electronic Corporation (Nanjing) Visualization System Co., Ltd − will provide direct access to the Chinese market.
On the occasion of the "shake hands ceremony", Eric Van Zele, CEO of Barco, comments, "Establishing this joint venture with CEC-Panda, and integrating the strong aspects of the two companies, will prove beneficial for both parties. We see a major potential for tiled LCD solutions in China, and CEC – a leading supplier of LCD products and IT solutions, and an important system integrator to the Chinese and global market – is the perfect partner for us to achieve our goals. Together, we have exactly what it takes to be the #1 control room solutions supplier in China."
"Barco is a well-established name in China, renowned for its high quality and innovative control room solutions," Lai Weide, Vice President of CEC adds. "With our combined strengths, Barco CEC Panda JV will achieve a leading position in the Chinese control rooms market. We are very eager to take up this challenge."
The activities of the joint venture will include developing, manufacturing, marketing, selling and servicing Barco and CEC-Panda branded control room products for the Chinese market.
With the setup of the joint venture structure and the implementation of the operational plan, 2016 will be a transition year for Barco CEC Panda JV. Sales are expected to build gradually as of 2017.
Barco owns 65% of the joint venture, while CEC-Panda Home Appliance owns 35%.