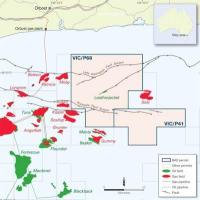 As part of its strategic review announced in February, Bass Strait Oil Company Limited has received an initial assessment of the Company's Gippsland Basin asset base. This technical review involved the engagement of technical personnel as well as the Company's internal technical team.
The Bass technical team have been mapping the data and already identified new oil and gas opportunities similar to and on trend with the Longtom, Basker/Manta/Gummy and Kipper fields. Furthermore, Bass has identified a number of follow up oil targets on trend with Bass' wholly owned Leatherjacket oil discovery contained in Vic/P68 permit. Leatherjacket was drilled by Esso in 1986 and discovered an oil column of over 25 metres in the highly productive upper LaTrobe group.
The Company also wishes to advise that it had sought and has received approval from the National Offshore Titles Authority (NOPTA) for a 6 month suspension of the work program for both its Gippsland basin permits, Vic/P41 and Vic/P68.
Bass had sought the variation of the work program for both permits to allow further time to integrate and map the reprocessed 3D seismic data and Quantitative Interpretation (QI) data analysis from the NOMB seismic survey.