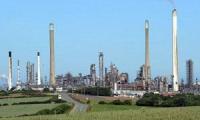 Bayport International Holdings, Inc. announce the signing of a Letter of Intent to purchase an interest in 5 oil wells located in the Scott Lease, Venango County, Pennsylvania.
The LOI is for the purchase of 15.0% WI and 11.25% NRI to be acquired in each of the five wells, permit numbers 1,2,3,4 and 5.
The approximately 52 acre lease is on the Scott Lease north east of the town of Oil City, Pa. This area has always been prolific in the production of oil and natural gas. The preliminary target zone for wells on this lease will be the Venango sands. The Venango Sands formations are the Red Valley, Lytle, 1st Sands, 2nd Sands, 3rd Sands Stringer, 3rd Sands and 4th Sands. These oils and gas bearing formations are found throughout this immediate area and historically have been good producers. All zones should be encountered at drilling depths of approximately 900-1300 ft., depending upon the elevation.