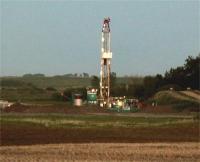 Bayshore Petroleum Corp. has closed the non-brokered private placement announced on August 25, 2014. The Company has issued 3,613,869 common shares at a price of $0.185 for total proceeds of $668,565.
No commissions or finder's fees were paid. There is a four month and one day hold period on the Common Shares issued, which expires on January 19, 2015. These funds will support general corporate purposes in pursuit of Bayshore's overall business plan.
Bayshore is pleased to announce that, subject to TSX Venture Exchange approval, Mark Roth has been appointed CFO of the Company effective September 22, 2014. Mr. Roth joins the Company with over a decade of experience as CFO in two prior Canadian public companies and an extensive background in financing and M&A transactions.