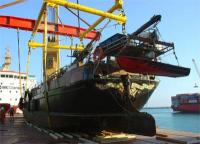 BBC Chartering has opened a new representative office in Ho Chi Minh City, Vietnam, starting August 1st. According to the carrier, Vietnam has emerged as a focus market for project, breakbulk, and general cargo transportation due to good prospects and growth rates outperforming other countries in the region.
"The strong expansion of the Vietnamese economy means increased investments and more project activity within the industrial sector of the country," said Svend Andersen, CEO of BBC Chartering. "We look forward to providing Vietnam with direct access to our world-leading network of project, breakbulk, and general cargo shipping. This step allows to improve our project related trading activities in this region and to further tighten our Far East network for customers."
As BBC Chartering's thirtieth (30th) office, BBC Vietnam is managed as a satellite office through the carrier's regional hub in Singapore. The new office is headed by Mr. Vu Dinh Khanh, an experienced project chartering professional and the carrier's designated owner's representative.