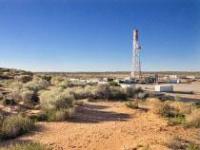 Cooper Energy Limited advises that Shelly-1 spudded on Monday 7 July, 2014 at 19:30 hours. At 06:00 hours this morning the rig was drilling 12-1/4 inch hole at 163 metres.
Shelly-1, a vertical well located 1.7km south-west of the Callawonga oil field, is prognosed to drill to a total depth of approximately 1,938 metres with its primary target the Namur Sandstone. The well is expected to take approximately one week to complete.
The drilling of Shelly-1 will mark the end of the current PEL 92 exploration campaign. Cooper Energy holds a 25% interest in PEL 92 with the balance held by the Operator, Beach Energy Limited.