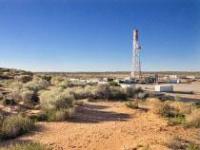 Australia's Beach Energy Ltd. provided the following guidance in relation to Financial Year 2016 (FY16) production volumes and capital expenditure. Guidance excludes potential impacts from weather related events, other unforeseen operational delays, exploration successes and corporate activity (acquisitions / divestments or farm‐ins / farm‐outs). Production guidance is net of fuel.
Production Volumes The recent industry‐wide focus on preserving cash reserves and liquidity has seen reduced drilling activity across the Cooper Basin and lower expectations for near‐term production profiles. Accordingly, the FY16 production guidance range of 7.8 to 8.6 million barrels of oil equivalent (MMboe) reflects the impact of natural field decline and curtailed drilling activity. Consideration has also been given to timing of new wells and facilities coming online.
Despite lower production, gas sales volumes in FY16 are expected to be higher than FY15 levels as a result of likely drawdown from storage. Capital Expenditure The FY16 capital expenditure program has been prepared under the assumption of a continuing lower oil price environment, with a focus on preserving cash reserves and maintaining liquidity. Accordingly, a major reduction in capital expenditure is budgeted, with lower priority projects deferred.