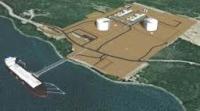 Liquefied Natural Gas Limited announced that its 100% owned subsidiary, Bear Head LNG Corporation, (Bear Head LNG) has filed an updated registration document with Nova Scotia Environment (NSE). Bear Head LNG anticipates NSE approval of this update in the second quarter of this year.
The NSE approval would be the last of the 10 initial federal, provincial, and local regulatory approvals needed to construct a liquefied natural gas (LNG) export facility on the Strait of Canso in Nova Scotia.
Bear Head LNG Chief Operating Officer, John Godbold, is pleased to announce that a Memorandum of Understanding (MOU) has been signed with the Assembly of Nova Scotia Mi'kmaq Chiefs. The MOU is a commitment by both parties to work together to ensure meaningful Mi'kmaq participation and continued negotiations in relation to a benefits agreement.
"We look forward to the continuing participation of the Mi'kmaq throughout the development of our LNG facility in Point Tupper," said John Godbold.