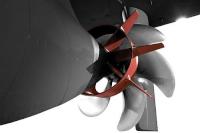 Despite the on-going crisis in the shipbuilding industry, Becker Marine Systems is continuing its successful entry into Asian countries such as China, Japan and South Korea. This is the reason why the Hamburg-based company is now opening its own branch office in Kobe, Japan. In addition, a manufacturing partnership for producing container ship rudders has been formed with Murakami Iron Works.
In Asia, Becker Marine Systems has for decades been a highly regarded and dependable partner in the maritime industry. The company's innovative competency was yet again put to the test by delivering the largest flap rudder in the world. The order from Hyundai Heavy Industries shipyard in South Korea for delivery of the rudders and energy-saving solutions for two 19,200 TEU container ships belonging to Mediterranean Shipping Company involved the challenge of combining excellent manoeuvrability with the best-possible performance.
In order to meet these high standards, a hydrodynamically optimised solution was developed, a Becker Performance Package comprising a Becker Flap Rudder Twisted and an energy-saving Becker Mewis Duct® Twisted. At a height of over ten meters and a weight of approximately 300 tons, the 78.5 m2, high-performance rudder was a particularly challenging task for both design and production.
Furthermore, with ships of this magnitude, manoeuvrability while navigating slowly through the Suez Canal or on the River Elbe, for example, is also a continuing challenge to the ship's crew. However, with the new high-performance rudder, the 400-metre long ship is able to undertake the most difficult manoeuvres, no matter whether moving slowly or quickly. Special forged steels with high yield strength are used in components under heavy load such as the trunk and shaft. Thanks to the use of special coatings and low-wear bearing materials, the rudder also meets the latest environmental standards as well as the requirements of the US Coast Guard.
The Becker Performance Package not only improves safety, it also reduces fuel consumption. Becker Marine Systems is thus making a significant contribution towards fulfilling the complex technical requirements of a modern 19,200 TEU container ship.