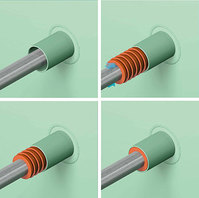 Piping transits are a potential source for fire spread. Fire in one room could easily break through them into adjacent areas. Various sealing solutions are offered to prevent this happening. Standing out because of their ease of installation and effectiveness are the SLIPSIL and DYNATITE sealing plugs from Beele Engineering. The Aalten-based company has now expanded its supply range for these with an XL version. In doing so the firm has now simplified still further the ability to make pipe transits fire-resistant.
Sealing plugs by Beele Engineering are deployed to make pipe transits fire-resistant and smoke and gas-tight. Until now the plugs had to be installed at both ends of the transit to achieve the desired fire-resistance. With the extended XL version Beele Engineering now offers a solution which only needs one-sided installation of the plug. The profiling of this plug series has also been optimised further, so that less effort is needed to apply the plug.
SLIPSIL and DYNATITE sealing plugs are very easy to install. The plugs consist of 2 (or more) parts which are greased and are placed around the relevant pipe (or pipes). The plug sections are then slid into the open space around the pipe, effectively sealing the transit.
Installation can be performed using precisely-matching conduit sleeves of steel, stainless steel, plastic or even a fire-resistant synthetic which has been specially developed by Beele Engineering, not only for optimal sealing, but also for ease of installation.