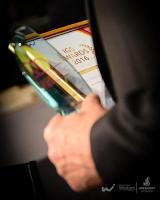 The LNG US Summit Awards 2017, organised by Wisdom Events, will take place in Houston, Texas on the 23rd of February. Receiving this Award signifies appreciation from both market analysts and oil & gas industry giants from all over the globe.
The event will attract everyone in the industry value-chain – top-notch leaders from industry companies, major associations and organisations, EPC contractors, service providers and even more. This creates an exclusive audience and a great opportunity as well – who would be better judges? So, collaborating with world-renowned oil and gas industry giants, the idea for awards was born.
Each year companies get nominated for their exclusive ideas, innovative, sustainable projects and best initiatives. This results in encouraging other leading companies and organisations to think green, search for environmentally friendly solutions and develop innovations.
It is important to understand the whole process of selecting the nominees for the LNG US Summit Awards. How does it look like and how do we now the winner? A brief description is presented below.
First of all, the whole oil & gas market is thoroughly analysed by competent market analysts. What goes next? The recommendations from major companies around the globe. As Wisdom Events moves forward with the LNG US Summit, honourable participants and sponsors express their opinions as well – they share their insights regarding certain projects executed by most influential gas industry people. No surprise that there are always hundreds of projects that deserve to be praised. Though, only the best ones become official Nominees of the LNG US Summit Awards.
What comes afterwards? It depends only from the people that attend this exceptional business platform. During the first day of the event (23rd of February), the Gala Dinner of the LNG US Summit 2017 is going to take place. Only then will participants be able to give their votes for the projects that, in their opinion, seem to be of the highest value – most exceptional, innovative or sustainable. At the end of the prestigious Gala Dinner, LNG US Summit Awards will have their winners and that will be a result of both market analysts and major industry leaders.
The LNG US Summit Awards is a result of hard-working market analyst and major industry leader's work. Each stage of the Awards is based on the feedback that professional business event organisers get from the participants. The goal is to analyse each project and have a better understanding of sustainable technologies that protect our planet as much as it is possible.
The LNG US Summit is an exceptional business platform unifying industry leaders from around the globe. It will take place on the 23rd - 24th of February in Houston, Texas. Professional business event organisers are offering a flawlessly executed event format that allows to discuss significant industry problems and establish valuable connections with skilled professionals from major companies.