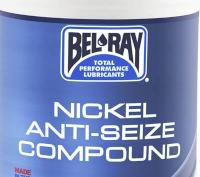 Total performance lubricant manufacturer, Bel-Ray, has released its new Nickel Anti-Seize Compound, specially formulated for use in a wide range of heavy Industrial applications including steel mills, power generation, refineries, petrochemical processing and marine industries.
The Nickel Anti-Seize Compound is an aluminum complex grease that features high contents of nickel and graphite powders. The Compound is free of any copper or soft reactive metals, making it ideal for use on stainless steel fasteners and fittings. A simple brush-on application, the Nickel Anti-Seize coats metal threads and components to prevent costly damage caused by galling, fretting and seizing.
Engineered to withstand the most extreme conditions, Bel-Ray Nickel Anti-Seize provides unmatched protection for metal equipment components and hardware against rust and corrosion, even under prolonged exposure to aggressive chemicals and temperatures of up to 1315° C (2400° F).