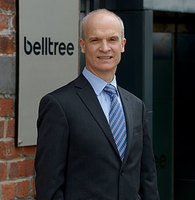 Specialist upstream oil and gas consultancy, Belltree, has successfully delivered a major contract for the Oil and Gas Authority (OGA).
As part of the OGA's Asset Stewardship Strategy, Belltree was appointed by the OGA to develop recovery factor benchmarks for oil and gas fields on the UK Continental Shelf (UKCS), of which there are more than 400. Belltree has an extensive track record of developing and applying analogue field benchmarking techniques around the world and utilised these techniques to create a bespoke benchmarking tool designed to support OGA stewardship activities.
In addition, Belltree's proprietary oil and gas benchmarking software, bMark™, has been adopted by the OGA to help maximise economic recovery for the UK (MER UK). Adoption of bMark™ software confirms Belltree as an authoritative force behind benchmarking workflows in the oil and gas industry today.
Scott Robertson, Central North Sea Area Manager at OGA, says, "The work product delivered by Belltree has helped us to produce our benchmarking report on oilfield recovery factor, which we've published today. The findings show that if, through improved stewardship, the OGA and industry can increase the focus on improving the recovery factor on selected prioritised fields, we could yield an additional 900 million barrels of oil."
Rod Clark, Managing Director at Belltree, says, "The success of the OGA contract illustrates the manner in which bMark™ is helping to optimise portfolio management and asset stewardship for our clients worldwide. By highlighting fields that are underperforming with respect to their potential, benchmarking techniques allow value to be maximised, not just for private company portfolios, but also for oil and gas producing countries through enhanced asset stewardship."
bMark™ software allows users to compare their asset portfolio to analogue data from more than 30,000 oil and gas assets worldwide, translating this data into powerful, real-time intelligence available at their desktop. bMark™ has been deployed in support of exploration and production (E&P) operators, financial institutions and regulators globally and is underpinned by the company's subsurface technical expertise spanning more than a decade.
Belltree is a reservoir engineering, geoscience and petroleum management consultancy based in Edinburgh, UK, with more than 10 years of experience in supplying high-end consultancy services to discerning clients worldwide. Belltree's varied client list includes world-leading petroleum regulators, E&P operators from super majors to start-ups, as well as leading oil and gas investment funds.