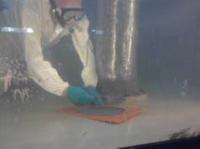 New paste grade material achieves a quick, durable repair even in oil contaminated wet and cold areas, with excellent adhesion to manually prepared substrates where grit blasting is not possible.
Research and Development Chemist, Jason Horn said, "Over the years, we have had many conversations with engineers across a range of industries who have expressed the need for a quick-curing repair system suitable for a large variety of application situations. This includes problem areas such as water, oil and fuel leaks on storage tanks, pipework, transformers, sumps, etc. In response to this, our R&D team has developed an extremely versatile, easy-to-use system that can be applied in any industry where the repair and protection of machinery, equipment, buildings and structures is required."
When ideal surface preparation of a metallic substrate cannot be achieved due to lack of time or resources, Belzona 1212 provides a cost-effective and durable repair that can reinstate equipment for years of service. With a high level of tolerance to surface contamination and excellent adhesion to manually prepared substrates, this fast curing material is ideally suited for applications where grit blasting cannot be achieved.