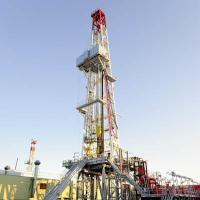 Bentec has won three major multi-million dollar contracts. The company also confirms its further expansion into the substantial offshore market.
The contract awards come at a time when conditions in the oil and gas industry continue to be challenging.
Highlights •First complete drilling rig to be built by Bentec for Caspian Sea offshore operations •Contract award for three 320 ton Cluster Slider rigs •Further demand from Russia with an order for thirteen Top Drives, bringing the total number to 63 sold in Russia so far
Offshore Rig Contract Award
Bentec will build its first complete drilling rig for Nobel Oil Ltd for offshore operations in the Caspian Sea, off the coast of Azerbaijan. The offshore drilling package will include the company's recently launched 750 ton Top Drive and new 3000hp Drawworks. The state-of-the-art rig will be installed on an existing platform in early 2016. This contract award builds on Bentec's previous success in the Caspian Sea. In 2013, it sold its first 500 ton Top Drive to an operator there.