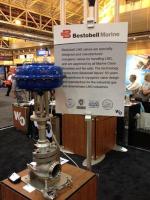 Bestobell Valves, part of the UK-based President Engineering Group (PEGL), will be linking up with its distribution partner W&O, based in Florida, to exhibit at HHP Summit, North America's largest showcase of natural gas fueling and technology solutions.
The exhibition is held in New Orleans on 6th to 9th October and will see Bestobell demonstrating its innovative, life-size DN100 Globe Valve with pneumatic actuator, alongside its Miniature Needle Globe Valve (MNGV). Bestobell's sales team will also be on hand to discuss any product or technical queries relating to valve technology to suit a myriad of different natural gas and LNG applications.
W&O, which is a global supplier of marine pipe, valves and fitting, valve automation, and engineered solutions to the marine and upstream oil and gas industries, will be exhibiting for the first time, after it was recommended by Bestobell to help further develop opportunities for its marine fuel systems business.