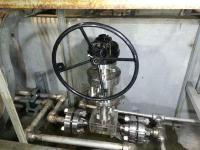 Bestobell Marine has recently secured its first order to supply its brand new range of cryogenic high pressure Globe valves to DSME (Daewoo Shipbuilding & Marine Engineering Co Ltd) in South Korea.
The innovative new valves have been developed over the past two years, in conjunction with DSME, to meet the exacting standards required for the valves in the new fuel gas systems, which includes withstanding extremely high pressures.
The valves are designed to stand a maximum pressure of 370 Bar and will be fitted in the gas phase piping of the fuel gas system. Here the LNG is injected into the engine at around 300bar pressure, with the valve and piping system designed to withstand these pressures. The valves are due for delivery at the end of 2014.