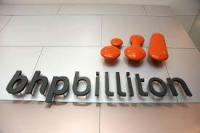 BHP Billiton Chief Executive Officer, Andrew Mackenzie, announced changes to the Group Management Committee (GMC).
Dean Dalla Valle, currently President Health, Safety, Environment (HSE), Marketing and Technology will become Chief Commercial Officer, assuming accountability for Potash.
Mr Dalla Valle's current portfolio includes Group Project Management making the Potash Project a strategic fit for his portfolio. Mr Dalla Valle will retain his existing areas of Health, Safety, Environment (HSE), Marketing, Supply and Information Technology.
At the same time, the changes will allow BHP Billiton President Petroleum, Tim Cutt, to concentrate exclusively on growing the value of the Petroleum Business. Mr Cutt's title will change to President, Petroleum. These title changes are effective 1 July 2015 and Mr Dalla Valle will assume responsibility for Potash from 1 August 2015.
'These portfolio changes recognise the depth of skill and ongoing contribution of both Dean and Tim to BHP Billiton,' Mr Mackenzie said.