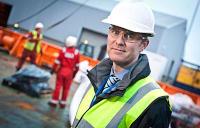 Bibby Offshore, a subsea services provider to the oil and gas industry, continues to strengthen its North Sea presence through successful completion of two further contracts with oil and gas majors, Perenco and Endeavour Energy UK.
Perenco appointed Bibby Offshore to perform subsea integrity inspections and maintenance works on the Inde Joint pipeline, which runs to the Bacton Gas Terminal in the Southern North Sea. Completed in early July, the 15-day workscope saw Bibby Offshore install a total of 94 concrete mattresses over the pipeline to assist in preserving the remaining rock dump mounds.
The second workscope, completed in late July, saw Endeavour Energy UK contract Bibby Offshore to carry out subsea tree inspections in the Renee and Rubie fields located in blocks 15/27 and 15/28 of the Central North Sea.
Both contracts utilised the company's inspection, repair and maintenance vessel Olympic Bibby and were the latest in a series awarded by these clients.
Commenting on the contract awards, Barry Macleod, UKCS managing director at Bibby Offshore, says, "The successful completion of both workscopes further consolidates our exceptional ability to deliver projects in a short period of time and with a quick, successful turnaround. We place a huge emphasis upon client satisfaction and confidence, and once again, Bibby Offshore has demonstrated our clients' continued belief in our ability to efficiently deliver a wide range of consecutive projects. We look forward to the continuation of both excellent working relationships."