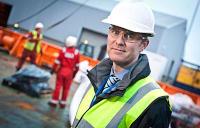 Bibby Offshore, subsea services provider to the oil and gas industry, has successfully completed a multi-million pound contract with Maersk Oil UK, providing both subsea structure and pipeline inspection support in the UKCS.
The four-week campaign, completed in October this year, saw Bibby Offshore's subsea support and construction vessel, Olympic Bibby, operate across Maersk Oil's Gryphon and Dumbarton fields. The workscope was also supported by Bibby Offshore's project management team based in Westhill, Aberdeen.
Barry Macleod, UKCS managing director at Bibby Offshore, says, "Securing this contract was a direct result of work we previously carried out for Maersk Oil, and demonstrates the company's confidence in our ability to successfully, and safely, deliver efficient services."
"We believe this agreement is a vote of confidence for the UK North Sea and the strategy of Maximising Economic Recovery. It offers proof that the industry's competitiveness is starting to provide results," Macleod adds.